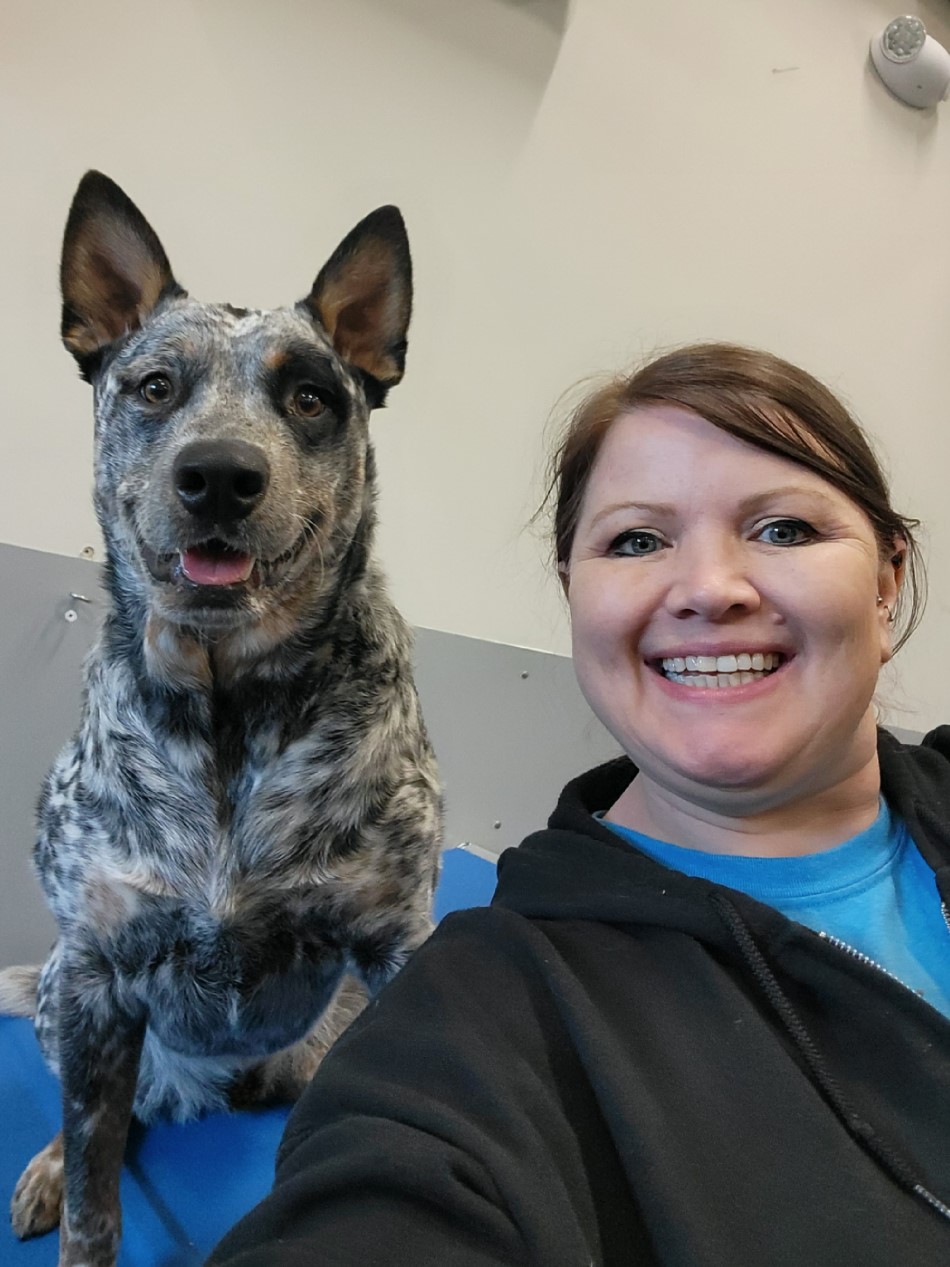 About our trainer:
Rachel McMichael
CBCC-KA, IAABC-ADT, CCDT
Rachel's passion for the animal world came very early in life. She grew up with Great Danes and was accustomed to dogs towering over her. Rachel recalls being very young when she felt a strong connection to animals. At 5 years old, Rachel would sneak dog biscuits and ask her Great Dane, Thor to "sit" and was amazed when he did it!
Rachel became heavily involved in rescue work and after helping with a very large HSUS case, decided to begin formal education in the animal care field by earning a degree as a Veterinary Technician. In her studies Rachel became passionate about animal behavior and began mentoring with local trainers and behavior consultants. Currently, the accreditations Rachel holds include: Catch Certified Dog Trainer, Certified Trick Dog Instructor, Canine Conditioning Fitness Coach, Stunt Dog Judge and Animal Actors Evaluator. She also is an AKC Canine Good Citizen Evaluator (AKC-CGC) and S.T.A.R. Puppy Evaluator! Recently, Rachel has earned the title of Certified Dog Behavior Consultant (CBCC-KA) which is one of the most prestigious titles for Canine Behavior Professionals. There are less than 350 of these professionals worldwide, less than 20 in the state of PA, and she is the only CBCC-KA in Butler County!
Rachel is extremely passionate about creating enriching, positive and lasting bonds between pets and their families and views training as an integral (and imperative) part of overall wellness for our pets. She truly believes that a great relationship with your dog is more important than any trick you could ever teach and you can teach your dog just about any trick if you have a great relationship!   
Daycare day has always been a favorite in our home. Saydie loves seeing her friends. The addition of Rachel has been amazing for all of us. In Saydie's "My Dog Learning" sessions Rachel has addressed specific issues we've had with Saydie, and in a single session has shown us with videos and training tips how to address those issues. Turns out they weren't Saydie's issues but our communication with Saydie. Following Rachel's tips, I've been amazed at how fast we've resolved the miscommunication. It has strengthened our bond with Saydie, and we are grateful!
Thank you so much for all you do for Charlie. I am seeing his tightly wound mind transitioning into a secure happy go lucky pup ever since I started bringing him there for doggie daycare.
My Luna came home after 4 nights of boarding at my dog's care center happy and healthy. She ate, drank, made lots of new friends and was challenged with amazing enrichment activities. She even got a bath before we took her home (thank you groomers). A superior staff with hearts of gold. Everyone loves their job and it shows. My Luna is loved and very well taken care of. She didn't even miss us which is exactly what I want. She goes to day care once a week and loves it every time. She has a day care tote and when I take it out of the closet she gets so excited and runs to the car. She knows it is day care time at My Dog's Care Center and she gets to play with all her friends. Thank you everyone for all your hard work.
Advanced enrichment training with Rachel has been a very informative and rewarding experience. Our lab puppy has benefited from these services just as much as we have from the feedback and video we receive with her lessons. I would highly recommend anyone looking to improve on their dogs abilities to give this a try.