We are temporarily unable to take new grooming clients for full grooms. We are able to still do baths, nails, and other various add-ons listed below
Making sure your dog is as comfortable as possible
While your dog is in our care we will do everything possible to make sure they are comfortable.  This includes keeping water available, a treat (if allowed) and a walk when they need to go!  We strive to ensure each dog has a good experience and understand that occasional creativity is required in order to keep them as happy as possible!
Our professional grooming team is trained to detect signs of trouble and understand coat types and skin conditions in dogs.  We will assess your dog and use the appropriate products each time.  All products are salon quality and most are natural with limited ingredients.  Shampoo and Conditioner types include hypoallergenic, colloidal oatmeal, tea-tree oil, medicated and de-shedding among others.
While your dog is in our care you can expect their appointment to take a minimum of two hours to complete.  Some dogs naturally take longer than others due to the length, type, and condition of their coat.  While here, we will take them out for potty walks, drink breaks, and offer a quiet rest period as often a needed.  It is our goal to provide a positive experience for each grooming session.
Did you know that we offer Daycare, along with a variety of Enrichment Activities and Snacktivities to stimulate your dog's senses while he/she is here for their grooming appointment?  Check out our Enrichment Activities and Snacktivities pages for our full menu of options.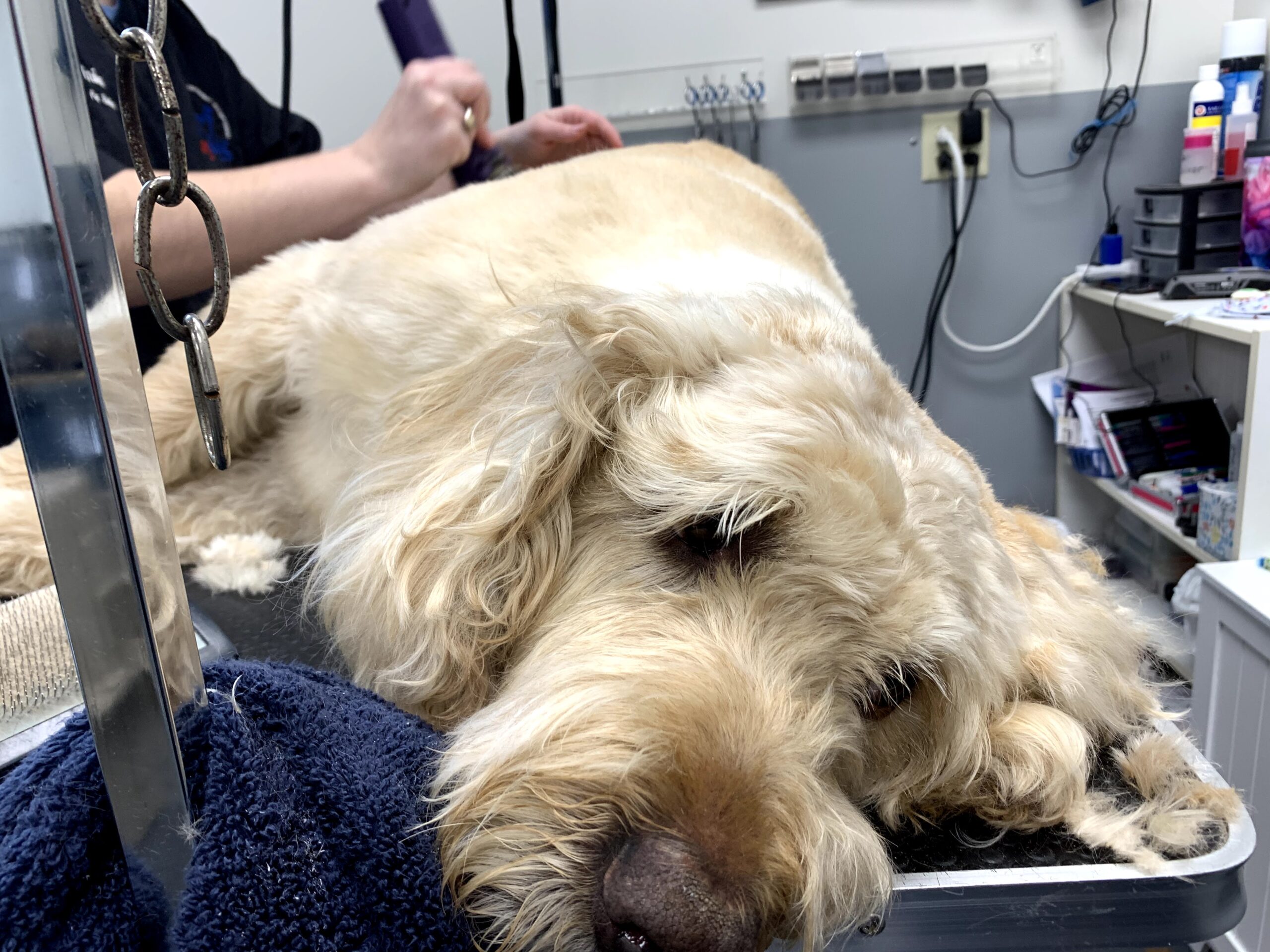 We provide loving and personalized care for each dog.  If your dog is stressed by grooming, we may choose to give him a break during the grooming process.  We want your dog to associate coming to My Dog with a positive experience, because grooming is a good thing!  Proper hygiene will keep your dog healthy and she will feel better.  Although some dogs have a history of poor grooming experiences, we believe with consistent care in a safe and quiet environment, even the most stubborn and untrusting dogs can grow to appreciate the pampering.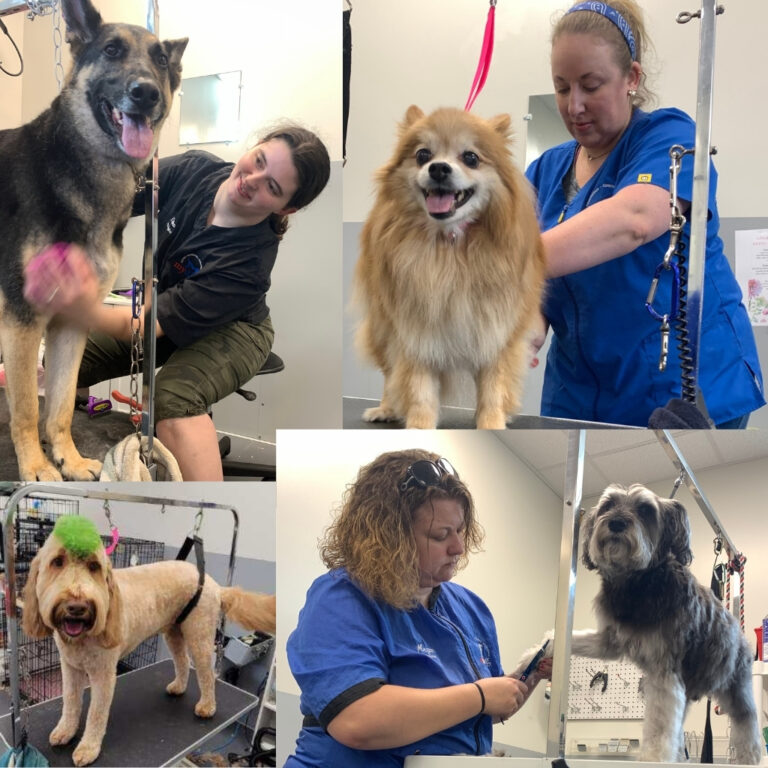 Vaccinations Required for Grooming Services:
We recommend Flea / Tick Prevention, Canine Influenza, and Lyme Disease Vaccination.  Annual Bordetella and Fecal Exam (with negative results) required for Daycare and Boarding.  Titer tests provided by veterinarians showing immunity accepted on annual basis for Canine Distemper, Parvovirus and Adenovirus.

Meeting your dog's individual needs is what we do.
Additional Grooming & Hygiene Services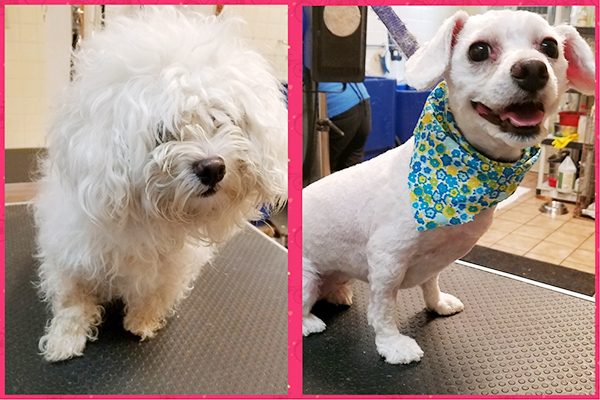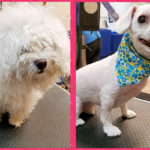 Detangling or Shave Down
Starting at $10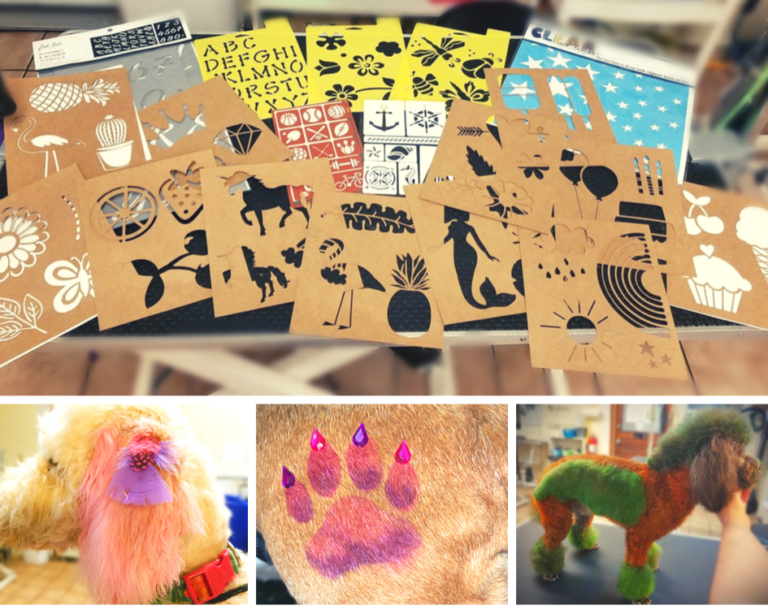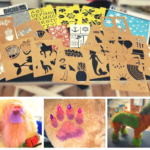 Creative Grooming
Starting at $10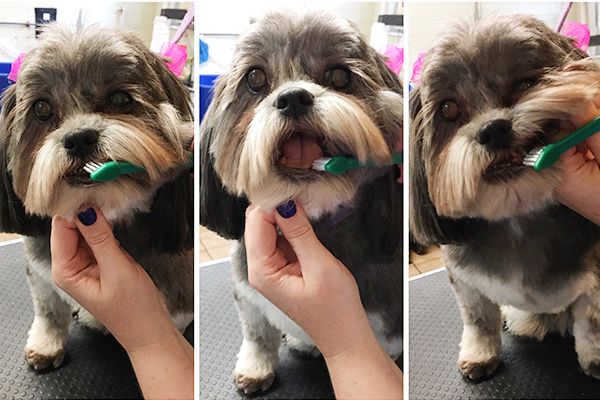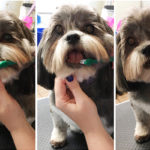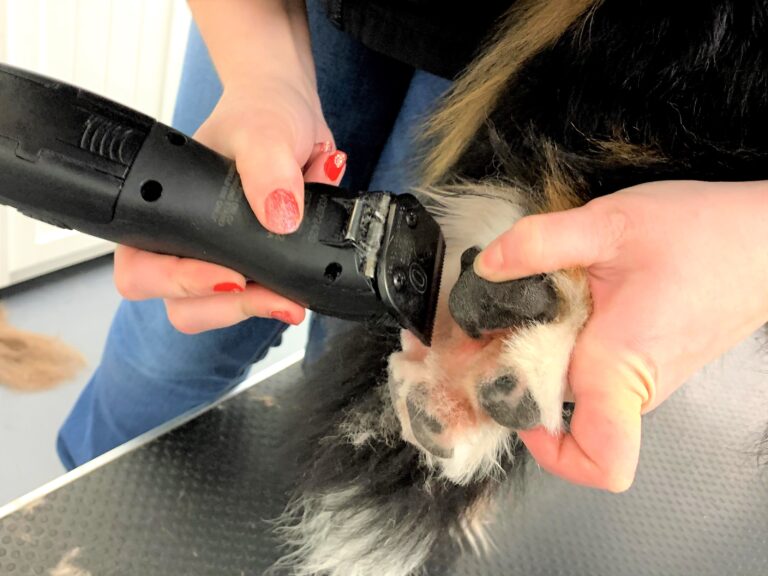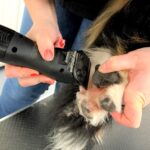 Trim Face or Pads
Starting at $15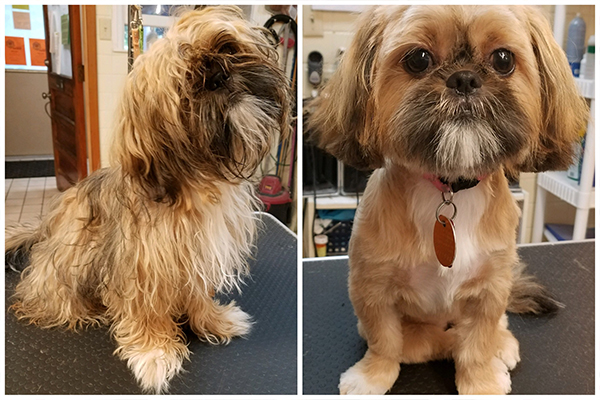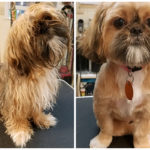 Re-Moisturizing Spa Treatment
$15 Added to Cost Of Full Groom or Bath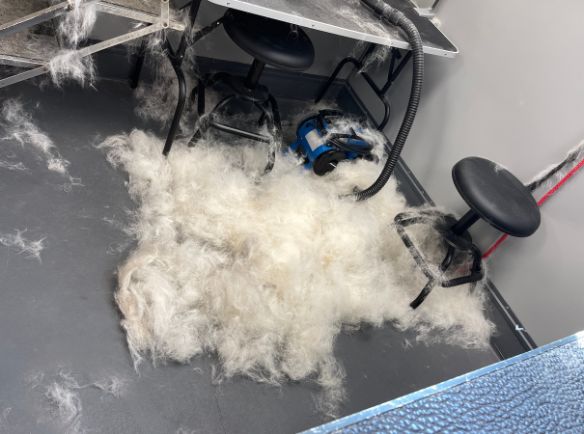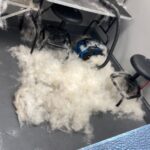 Miscellaneous Grooming Fees:
– Additional charge may apply for extra maintenance or care, excessive tangles, shave downs and add-on's.
– $25 Scheduled Grooming No Show/Last minute cancellation Fee will be applied to next appointment or charged to card on file for any appointments not canceled 24hrs or more from scheduled appointment time.

Tooth Brushing:$10
Natural, enzymatic product. Free take-home toothbrush.
Plaque Cleaning:   $20
Natural and non-invasive. Three-step natural, enzymatic process to reduce tarter and plaque buildup on teeth and gums.
Facials:   $10
All-natural products reduce tear and food staining and odor around eyes and snout. Dogs enjoy the massaging application and you will appreciate the results.
Nail Clipping:   $12
Note: Included at no charge with cost of Full Groom.
Nail Buff:   $18
Smooth the nails to prevent floor scratching and the scratching on your legs as well. Allows us to get the nail as short as possible without bleeding.
Note: $12 if added to Full Groom.
Polish Nails:    $20
Trim Face or Pads:   Starts at $15
Detangling or Shave Down:   Starts at $10
In addition to Bath & Tidy or Full Groom.
Anal Sac Release:   $10
External pressure only, non-invasive. Good for small-medium size chronic scooters.
Deshedding – Starts at $15
During our De-shedding process, we use products and specially designed tools to loosen and remove the dead undercoat without harming the topcoat.  This will help with hygiene and healthy skin, allergies issues and removal of dander. Must be added to a bath and tidy or full groom
Creative Grooming:   Starts at $10
Safe color dyes used to create specialized looks, including stenciling (hair tattoos). Can be combined with hair cut to create looks such as dinosaur and tiger, or a personal look at your request.
Feather Extension with Crimp Beading. Safe and stylish, adding various colors and styles to suit your personal taste.
Skunk Treatment:   Starts at $20
In addition to cost of bath and dependent on dog size and fur length and type. More than one treatment may be necessary to eliminate odor in its entirety.
Re-Moisturizing Spa Treatment:   $15
Luxurious bath to satisfy dry or irritated skin. We use all natural products including: Colloidal Oatmeal Shampoo and a soothing Leave-in Conditioner, combined with Mink Oil spray to re-moisturize the coat.
Note: Added to cost of Bath & Tidy or Full Groom.
Brush out:  Starting at $10
Help maintain your dog by getting brush outs in between grooms. Price coat/condition dependent.
Enrichment Activities:   Starts at $12.50   Your pup is sure to go home, happy, tired and free of pent up energy when you add one of our brand new sensory stimulation Enrichment Activities to their spa day!
Snacktivities:   Starts at $1                     Spice up your dog's spa day with one of our yummy room service snacks or one on one activities.
Do you get embarrassed when guests leave your home covered in dog hair? Are you running the sweeper daily and appears as though you haven't swept in a month?  At My Dog's Care Center we understand the frustration!
This is one reason we offer a comprehensive
De-shedding

Treatment

for your dog. Believe it or not ALL dogs shed. 

Some shed heavily all year, others primarily during spring and fall.  There is no such breed that does not shed, regardless of the claim.  All canines shed the fur that dies to make room for new growth. Humans do the same thing, except it doesn't get trapped the way a dog's fur will.  Although you may not see it, this shedding (dead) fur is trapped by the top coat.  This is why you can brush your dog repeatedly and it never seems to stop.  The dead fur and dander near the dog's skin causes odor, hygiene and skin problems and  it can exacerbate an allergy issue.  It's also annoying when it falls all over your home, clothes and furniture!

Many believe that shaving a dog (removing the coat) will lessen or eliminate a shedding problem. This is FALSE information.  If the dog has a double-coat, their undercoat is what protects the skin, and allows the dog to maintain proper body temperature against heat and cold. 

 

Shaving a dog will cause the shedding fur to be shorter – that's all.  More importantly, removing the coat will compromise its natural integrity to provide cooling in the summer and warmth in the winter.
Like people, dogs get hot.  However, humans and canines warm and cool themselves differently.  Dogs release heat through panting which is normal.  Laying on a cool floor or near a doorway feels good.  Shaving the coat does not help the dog stay cool.  As opposed to people who put on coats and take off sweaters, dogs are wearing a Divinely inspired coat that automatically takes care of temperature issues.  Some dogs are cold and/or heat intolerant; shaving the coat will decrease the tolerance.
During our De-shedding process, we use products and specially designed tools to loosen and remove the dead undercoat without harming the topcoat.  This will help with hygiene and healthy skin, allergy issues and removal of dander.  
Proper de-shedding that is breed appropriate takes additional time and uses specialty products and tools. 
The cost is in addition to the price of a bath, dependent on the amount of time it takes to do a thorough job and is typically $10-$40.  It is not painful for the dog, and they are healthier and feel better once the dead fur has been removed.   You will notice the difference at home too!
While your dog is here for grooming, you may want to consider having our
Professional Grooming Team treat them with PlaqClnz.
PlaqClnz is a non-invasive, easy and effective treatment to help with plaque and tartar buildup for your dog. The oral care products are alcohol-free and designed to help reduce plaque and tartar. They contain natural ingredients including Zinc complex, which can help stop odor formation and interfere with tartar growth.
Without proper care, your dog can suffer from dental problems such as bad breath, plaque and tartar buildup, and gum disease. These problems can lead to more serious problems if not addressed.
The most noticeable sign of plaque buildup is bad breath. If plaque buildup is left untreated, it hardens into tartar which is a deposit along the gumline. Over time, this can cause "pockets" and may lead to gum disease, pain and loss of teeth.
We recommend seeing your vet to determine the dental health of your dog. PlaqClnz treatment is NOT the same as having your dog's teeth cleaned by your veterinarian. Vet teeth cleaning requires anesthesia and is very costly. PlaqClnz is designed to be effective over time to help maintain your dog's dental health.
PlaqClnz performed at My Dog's Care Center includes the following:
Pre-treat dog's mouth with PlaqClnz Spray at check-in. The product will remain on their teeth and start to break down the bacterial source of the plaque, for a minimum of 30 minutes.
While in the grooming tub, we'll gently flush the mouth with the PlaqClnz Oral Irrigator to remove plaque and debris.
During grooming we will place PlqClnz Gel in your dog's mouth. This will continue to cleanse your dog's mouth and help eliminate bad breath and plaque buildup.
Adding a toothbrushing service will enhance the experience by removing additional buildup that was not irrigated during the bathing process.
When treated on a regular basis, your dog will have fresher breath and less plaque and tartar buildup. This translates into better oral hygiene that can prevent unnecessary vet visits. Let our Grooming Team know if you would like to try PlaqClnz on their next grooming appointment. It remains one of our most popular services.
Request
grooming services